There's not much information available about Mercede Records other than what can be read from the label credits on the few 45's that have surfaced. John and Dee Mercede are credited as producers on several releases and they seem to have had their own publishing company called Power Of Music / Mercede Power Of Music.

The earliest release is by the labels own mystery artist. It is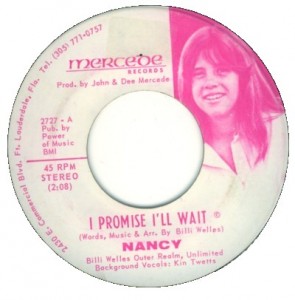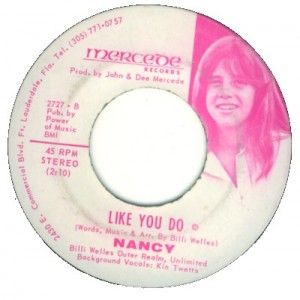 credited only to Nancy, a singer I know little about other than what is mentioned on this page. As far as I know she never recorded for any other label. The a-side, I Promise I'll Wait, is a slow paced tribute to prisoners of war. On the flip is a nice crossover soul tune called Like You Do. Both songs have been written and arranged by Billi Welles and he and his band also participates as the backing band. Background vocals are credited to The Kintwetts, possibly a local area group of studio singers.
The next release was by Billy Wells and his band, for the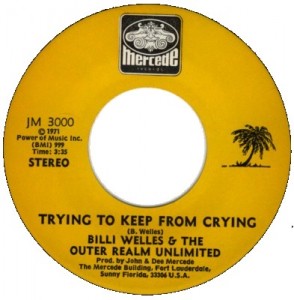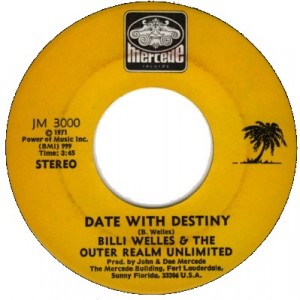 occasion named Billi Welles & The Outer Realm Unlimited. I've been told the band got it's name from Billy Wells fascination with science fiction, he had previously released records as Billy Wells And The Invaders and was a former singer with The Crescents. The songs are Trying To Keep From Crying b/w Date With Destiny, both written by Mr. Wells. Both songs are psych influenced and fuzz laden, but Trying To Keep From Crying is the funky number while Date With Destiny is a slow psych number.
The label then released another record by Nancy. It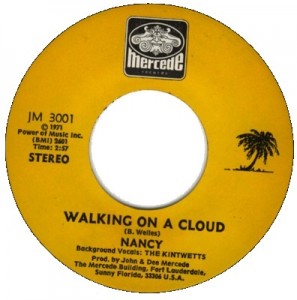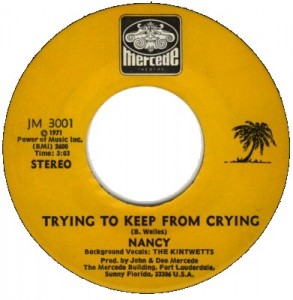 is a female version of Trying To Keep From Crying and is backed with a ballad called Walking On A Cloud , also written by Billy Wells. Background vocals are once again credited to The Kintwetts.
The third release of the 3000 series is credited to Gene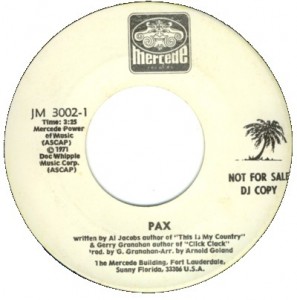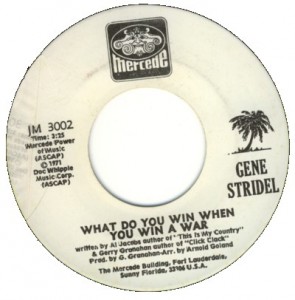 Stridel. The only artist I've been able to find by that name was Eugene Strider, formerly of The Striders, who had several releases on Verve, Columbia and Atlantic in the sixties. Eugene Strider died in 1973 so this would probably be his last known recording. This 45 is a spoken anti-war record with an instrumental version of the backing track on the other side. Gene Stridels widow has informed me that he served in the armed forces so this is probably not a personal statement. It may have been a job on behalf of Al Jacobs and Gerry Granahan who are credited as writers. It is indeed a well written and well delivered thought about "winning" a war. A full account of Gene Stridels career can be found at Marv Goldberg's R&B Notebooks.
The Fourth release is yet another spoken word record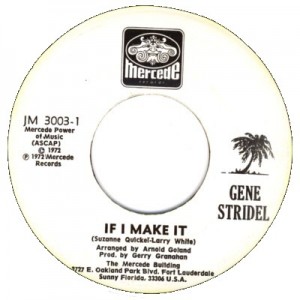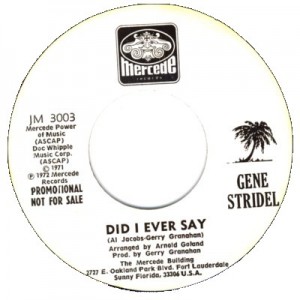 by the same team as the third release.
The sixth release featured here is by Don Hollinger.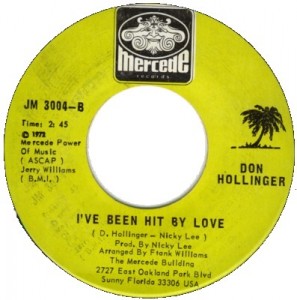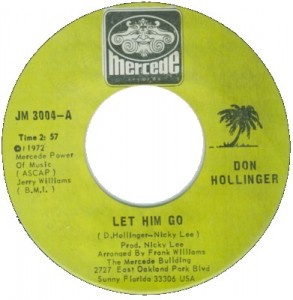 Production credits are given to disc jockey Nicky Lee who also gets credited as co-writer on both sides. And it's arranged by Frank Williams, one of the key figures behind the Miami sound. These two cuts were also released on Alberta Records. An overview of Hollinger's career can be found at Sir Shambling's Deep Soul Heaven webpage. A really good deep soul 45.
The seventh disc is by a rock group called Ralphs who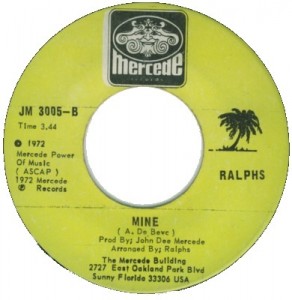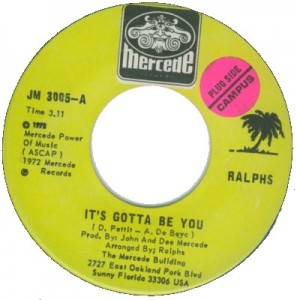 performed It's Gotta Be You b/w Mine. Both tracks are early 70's southern rock, the a-side featuring a novelty intro. I have found no trace of this band anywhere. To me, this is one of those recordings that grows a bit with each new listening session and I've come to like it quite well.
The last disc this time around is the third outing by the same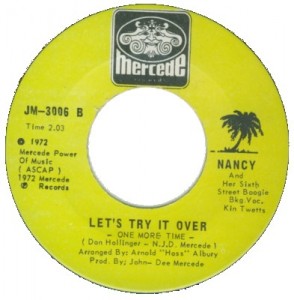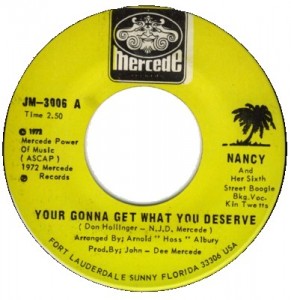 mysterious Nancy that featured on the two earlier releases. The songs featured on this disc are Your Gonna Get What You Deserve and Let's Try It Over (One More Time). The record is credited to Nancy And Her Sixth Street Boogie, with background vocals by the Kin Twetts as before. This time the songwriting credits are shared between Don Hollinger and N.J.D. Mercede. Interestingly enough the songs are arranged by Arnold "Hoss" Albury who was one of the key personell behind the Miami funk. Albury was involved with most of the local talent including Betty Wright and Clarence Reid. He played on, wrote, arranged and produced so many classic soul and funk cuts from Miami that it's very hard to get an overview of it all in hindsight.
Please contact me if you have further information about this label and the people associated with it. Thank you.